In May 2000, Descanso Gardens received a federal Institute of Museum and Library Sciences (IMLS) grant. The funds will enable us to map the plant locations, conserve declining accessions, and verify plant identities in our historic collections. BG-Map and Garden Notepad are essential tools for accomplishing the first two objectives. The project is proceeding in three phases with the first two complete.
Phase I saw the development of a base map for the garden. Main control points were set via high accuracy GPS equipment for use in aerial photogrammetry and later for ground surveying. The surveyors also established a network of control points on paved surfaces. A base map was produced in AutoCAD format on the California State Coordinate System.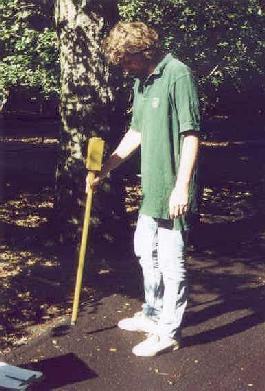 Tim Thibault uses a metal detector
to locate a control point.
Phase II saw the enhancement of the base map and purchase of the technical instruments to carry the project to completion. Approximately a quarter of the land, including nearly all the area open to the public has dense evergreen tree cover. The obscured areas on the base map were filled in using information from the1954 maps of the grounds produced by survey teams from the County of Los Angeles. The technical instruments include computer and survey equipment. A new 600 MHz Pentium III computer system was purchased on which AutoCAD 2000 and BG-Map were installed. Field survey instruments include a Topcon GTS-213 and an HP 200lx with Garden Notepad preloaded serving as data collector.
We are currently in Phase III, the active mapping of plant locations. While in the field mapping the plants, we also note their size and condition, check their identification if possible, and make recommendations on plant care, propagation and conservation. To date approximately 15% of our accessioned plants have been mapped, including virtually all of the lilacs. We are currently mapping the camellias during their winter bloom season before moving on to the California native plants and roses in turn. The dense camellias, many of them at a great distance from a control point, offer unique challenges for mapping. We estimate that we will have most of our accessioned plants mapped by May 2002.
Outside experts will also come in during Phase III to verify the taxonomy of our collections. Already there have been successes in identification, plant care and conservation. Staff have successfully identified or corrected a mistaken identification for many plants. With camellias this presents a particular challenge. Certain cultivars sport readily. The presence of a virus also changes a cultivar's name. As an example, a large block of Camellia vernalis 'Hiryu' had to be separated into 'Hiryu' and 'Hiryu Nishiki' when some of the plants were found to be virused.
After mapping of an area in completed, notations on plant condition go to the horticultural staff. Historic camellias have been freed from competition with vigorous seedlings and tagged for repropagation at the appropriate season.
Even though the project is still in progress, it is clear that Descanso Gardens has benefited by the increased ability to manage our historic plant collections. Further, the additions to our plant records systems, particularly Garden Notepad, will enable Descanso Gardens to be more efficient and responsive to our changing collections well after this project is history.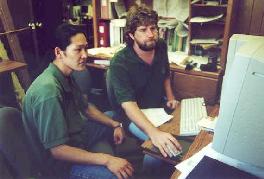 Yongchan Park and Tim Thibault
enter mapping data collected in the field.