The mapping project began as a result of a self-analysis of how we communicate about planting projects and facilities management issues. The Arboretum felt a need to link campus facilities mapping to our plant location mapping via compatible computerization of our system in order to develop better communication tools between departments within the arboretum, campus facilities, architects and contractors helping us all better plan for future building, utility and collections developments.

Prior to this project, plant locations were recorded on hand-drawn MylarÒ maps using a tape measure. We had no means of easily transferring plant location information to facilities staff and outside contractors. Since we did not have real-world, precision locations for our plant locations, physical analysis and verification of their maps was necessary to convey information about impacts and/or developments of our collections. Campus facilities were already keeping and updating computerized maps of buildings, pathways, roads and other hardscape objects. So we needed to find a way to capture that information, while providing them with plant location information and making a useful system for our curatorial and educational needs.

BG-MapÔ offered us a perfect solution. It already has direct links to BG-BASEÔ written into the program, it has expert technical support and is capable of exporting plant location data in a format compatible with the campus facilities mapping software, ApertureÔ. Our campus facilities provided the base map in an AutoCAD MapÒ 2000 file.

We are currently developing import and export schedules for map updates; facilities will provide updates to roads, buildings, pathways, utilities, etc. and we will provide all plant related location updates.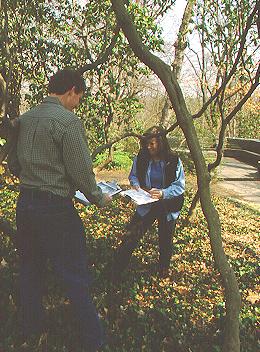 Checking Existing Plant Labels
and Documentation
Because our old system of mapping was based on a quadrant system, all same accessions within any given quadrant were assigned the same qualifier. Our new system requires that locations are exact X-Y-Z coordinates, so each individual of any accession needed to be assigned a unique qualifier. This phase includes analyzing and updating each quadrant's records, verifying the living status of each individual, assigning new qualifiers where appropriate, and making and installing new accessions labels for every plant in our collection. We started this phase one year ago and continue to work ahead of the active creation of computerized maps of our collections. We hope to have most of our 18,000 woody plants mapped in two years.
At that time, we will explore ways to enhance educational links to our computerized plant records information through such applications as world wide web access and touch screen access to our maps that would allow for the creation of self-guided tours.