BG-Map Feature Article

BG-Map
Handheld Solutions:
Carry BG-BASE™ Data in Your Pocket
GreVid and Garden Notepad Stand-Alone Software
for BG-BASE Users Who Do Not Have BG-Map
Download the Users Manual
Requires BG-BASE 6.0 or later and a Windows mobile device running Pocket PC/Windows Mobile 2002 or later. PropNoter requires the BG-BASE Propagations Module.
BG-BASE is a trademark of BG-BASE, Inc.
Note: Should you wish to purchase BG-Map for mapping in the future, the cost of your GreVid and Garden Notepad Standalone Version will be credited toward your purchase of BG-Map.
"I have used the Garden Notepad in our Core Gardens inventory of plants. I saved so much time in the field and in the office... I feel that the Garden Notepad is a helpful addition to our plant records system!"

Angela Brown, Plant Recorder
The North Carolina Arboretum

"I love the new search feature!!! It gives us so many other ways to use GreVid and have our plant records be truly portable!"

Rhoda Maurer, Plant Records Supervisor
The Scott Arboretum

"We just completed our first inventory using PropNoter. It went smoothly and was the fastest inventory we've ever done."

Amy Highland, Plant Recorder Mount Cuba Center
GreVid and Garden Notepad Stand-Alone Version gives mobile database access to BG-BASE users who have not yet purchased BG-Map. It provides an easy to use interface that controls the transfer of data between the BG-BASE and these applications:
Garden Notepad

Garden Notepad is a time and labor saving software package that allows garden staff to capture information about the size and condition of plants in the field on a mobile device and automatically upload and transfer that information to BG-BASE™.

GreVidTM

GreVid is a tool for viewing BG-BASE™ plant collections records in the field using a Windows-based mobile device. Simply, enter the accession number or swipe a barcode to quickly retrieve data on any living accessioned plant. Or, search by plant name or location.

PropNoter™

PropNoter is a tool for viewing and editing BG-BASE™ propagations records in the field using a Windows-based mobile device. A data export utility, built into BG-Map makes transfer of propagations records from BG-BASE to the mobile device quick and easy.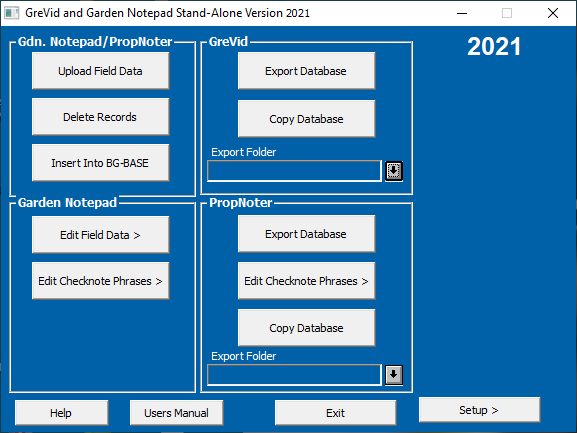 GreVid and Garden Notepad Stand-Alone Version controls the
transfer of data between the mobile device and BG-BASE